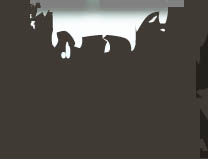 6.20.12
After weeks of reprogramming and condensing, Still Inertia's official PRESS KIT is now available online.

stillinertia.com/press

---
11.29.11
"Invested" (Official US Release)
67 Minutes - CD/MP3 - November 2011 - Suggested Retail: $12 (CD)
$10 album/$1 songs (MP3)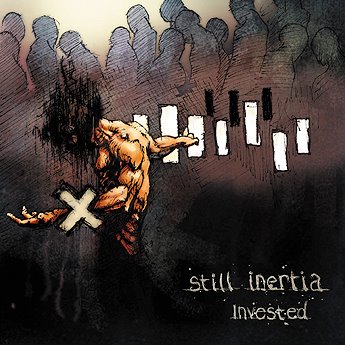 Official Sellers: CDBaby, iTunes, Amazon.com
Official Distributor: CDBaby
Official Rights Affiliation (PRO): BMI
ID: CR-112011-29
BARCODE: 6 25989 65862 4

"Invested" has just been released for sale to the world,
starting at CDBaby.com!

"Invested" spans six-years expressing vividly rich and, at times, darker songs blurring electronic and acoustic styles with guest musicians, vocalists and even a guest orchestra! "Electronica" continually redefined... with each new song.

Guided by Jason Kraley's somewhat frenetic experiences and adjustments (or mal-adjustments) of relocating to Philadelphia, 6 years, 2 cities and 3 studios later, this album stands as an audible record - a journal of the many thoughts, feelings, encounters and experiences since his move in 2005. "Invested" definitely carries an unusually unique blend of vocal tracks as well as instrumentals compared to Still Inertia's previous works. Definitely some highlights of this album, including its mastered sound quality and professionally artistic presentation, is the first ever recorded use of a full-sized Steinway and Sons grand piano and the inclusion of a guest orchestra: The Philharmonia Orchestra of London (via The Sound Exchange).


---
11.26.11

---
UPDATE: 7.9.07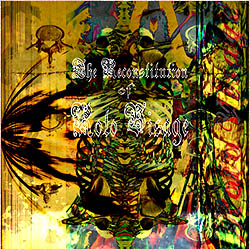 NOW RELEASED FOR FREE DOWNLOAD:
"The Reconstitution Of Roto Visage"

Eleven artists came together to reinterpret, reinvent, and reconstitute the work of Roto Visage (one of CRC-Music's colleagues). Featuring remixes by: I.V.Lab, Pocka, Ahasverus, Conversations About The Light; Defractory, Calyx After This, Retro, Still Inertia, Worms Of The Earth, Anything In Wire, Nostalgia.

Still Inertia played its hand in creating a re-version sonata of the song called "Smudge" by Roto Visage off their album - "La Muse Cachée". Still Inertia spent several hard days creating a 7:32 version called "Smudged." I hope you all enjoy in the infinite vastness of musical appreciation, artistic deviation and expressionism that Roto Visage gave all us musicians such a great honor to explore...

This album guest appearance for Still Inertia has been added to Still Inertia's Discography. Click here for more information on the song line up, how to download individual songs or even the entire album online... for free courtesy of Kaos ex Machina netlabel.

Enjoy!


---
UPDATE: 10.20.06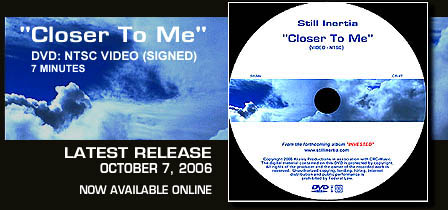 Still Inertia: "Closer To Me"
(DVD: NTSC Video Signed Edition)
Total time: 7 minutes - Price: $4.50 US + Shipping ($2.50)
Of the many songs in progress for the upcoming album, INVESTED, there are a few that have been complete and awaiting their final placement on the album itself. One song is called "Closer To Me" and is pre-released with its very own video! Kraley Productions has been diligently working on this video for the past 3 weeks and is now the first video converted to be viewable online.

October 7, 2006 was the official release date of the second music video ever for Still Inertia. It is an exclusively first new music video for a song called "Closer To Me" which is promoting the forthcoming third album entitled "Invested." Using footage spanning over 2 years in Cleveland, Ohio, the final lyrical pieces were shot in a day in Philadelphia, PA. Massive amounts of footage taken in Philadelphia were crunched down during pre-production to workable time-elapsed footage. This video explores the rather ever-changing emotional and mental health of someone who needs to get closer toward their own "within" before they are too far gone. It also demonstrates the continually evolving exploration of the creative boundaries of Still Inertia from its previous years. This, of course, combined with the other song "Eileen" only gives you a taste of what is to come on this third album.

The DVD features the full quality version (29.97 frames per second) as opposed to the 15 fps smaller/compressed version in QuickTime format for viewing across the Internet. Fully edited on Final Cut Pro 4.5 HD and finalized with complete menu design and integration on DVD Studio Pro 3. Total editing time: 3 weeks.

For those of you who have been (im)patiently curious about what's happening with the forthcoming album, perhaps hearing this new song and seeing quite a refreshing look at Still Inertia (and the mentally insane brain behind all the musical cacophony) will satiate and intrigue you enough to understand why there is so much heart and soul (and time) being meticulously built into this album's completion.

TO LISTEN TO THE NEW SONG:



Written & Produced by Jason Kraley (BMI)
Additional Drumwork: Roto Visage
Vocals, Lyrics, Music: J. Kraley

VIDEO AVAILABLE FOR VIEWING ONLINE:
(QuickTime, 17Mb)


For more information about Still Inertia, please visit www.stillinertia.com.

(US Release ID: CR-V7)


---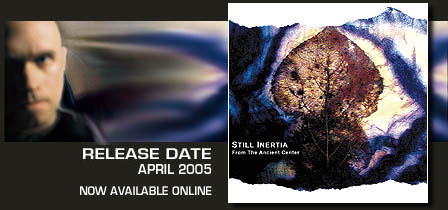 Still Inertia: "From The Ancient Center"
Total time: 45 minutes - Price: $10 US + Shipping
Curious? Trust your ears:

"Cetus (excerpt)" Listen (MP3, 1.2M)
"You Shed Light In Me (excerpt)" Listen (MP3, 1.2M)
"Vessels (excerpt)" Listen (MP3, 1.3M)

"From The Ancient Center" is the new album from Still Inertia which serves as the musical companion to an art exhibition installed April 7, 2005, by native Cleveland artist, Christine Siarka, entitled "From The Ancient Center: Mandala Drawings and Metal Sculptures". Christine translates her own personal, contemporary versions of mandalas from the traditional Tibetan concepts into amazing metal sculptures of mandalas. Jason Kraley, working under the musical identity Still Inertia, was commissioned to create music specifically for this exhibit and its installation. Working in the studio with Mike Williams (of MadNote Productions) and Amanda North, this is the first time Still Inertia created an album that concentrates on the human experience during meditation. With such intentions, it is with great hope that the listener becomes aware of the moment in time they create each time this album is played in its entirety; a moment when nature and technology exist harmoniously...

Fretless bass guitars, Siren-like vocal textures, rich layers of tribal rhythms, tints of pianos, humpback whales, a chinese gong, and even a turntable are all carefully and vividly woven together to create "From The Ancient Center". With meticulous continuity, this album exhibits 4 songs (or movements) specifically created for the walking meditation engaged during the exhibition's opening night. The evening was a wonderful success and experience, and the CD was pre-released to those who attended that night. The positive consensus from the participants in the walking meditation was: "I've never heard music like this before." The music was a permanent installation of the exhibit and will continue to encourage the interaction of visitors, connecting the visual art with the music, to create an ever-evolving rock mandala in the center of the room. Photos and video captured its growth and will be released online in the very near future in The Memory section of www.jasonkraley.com.

For more information about Still Inertia, please visit www.stillinertia.com.

(US Release ID: CR-40705)


---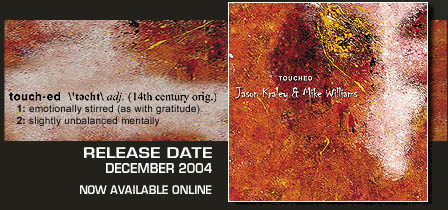 Jason Kraley & Mike Williams: "Touched"
Total time: 56 minutes - Price: $10 US + Shipping
Curious? Trust your ears:

"Equity (excerpt)" Listen (MP3, 707K)
"Per Il Nonno (excerpt)" Listen (MP3, 709K)
"Impermanence (excerpt)" Listen (MP3, 716K)

"Touched" is the first collaboration between Jason Kraley (of Still Inertia) and Mike Williams (of MadNote Productions) to create musical atmospheric movements in a mutual arena of audible expression that can be heard and felt. Writing "Touched" was mainly a departure for Mike in terms of how he previously conceived of music with structured composition. Jason took the opportunity to personally explore and expand preconceptions (misconceptions?) of "ambient music", giving it texture and rhythm. The result of their blending musical personalities was well worth their perseverence. The motivation for this beautifully mastered album was to provide a a continuous background of changing atmospheres as a soundtrack for the Touched: Art Exhibition by Wild Plum Productions in Cleveland, 2004. The album features 5 movements that express the many musical representations of the sense of touch, and it was pre-released on the exhibition's opening night, November 26, 2004. Now it is officially released publicly by Compression Records Cleveland/MadNote Productions.

CRC Music is proud to release the first collaborative release between two record labels! Compression Records Cleveland and MadNote Productions worked long, hard hours to make "Touched" a seemless movement of musical atmospheres and meditative environments.

(US Release ID: 112604-CR-MN)


---

Still Inertia: "Upgrade"
Total time: 76 minutes - Price: $10 US + Shipping

With the turn-of-the-century CD project called "Heaven" CD put on indefinite hiatus, Still Inertia has now released its finalized version of the latest release (and first full-length album in CD format): "Upgrade". It is an album almost in the form of a collection of songs spanning from July 2000 through October 2004. Thank you to all those who purchased the evolving copies faithfully through offline means. This final version is now finally available for purchase online.

"Upgrade" starts off with one of the latest works recorded in the studio in October 2004 with the song "Off-Season" which features 5 layers of guitar: 3 from the mad genius Mike Williams and the remaining 2 are Still Inertia's first time touching a guitar and the results were stunning, according to fellow listeners. Amongst the album's journey, there are a few indulgent tracks composed within the past three studio years (produced entirely by Jason Kraley) such as "Mother" (2001), "Steve's Key" (2003), and the latest "Dreamwaiting" (2004) - but perhaps some of the best highlights on "Upgrade" are songs that were a result of working with such wonderful and talented guest musicians spanning the years throughout this album. Songs like "More Than Anything" (2000) beautifully mesh the vocal harmonies of Amanda North, the guitar talents of Mike Williams, and the generous drum collaboration with Gooding. Joe Minadeo's signature sound can be heard in "What You See" (2004), Shwag McGinty's guitar and looping talents are evident in "The Prisons Of Language", and (unbeknownst at first to him) Joe Rohan's own guitar pluckings made their way into the personally cathartic "I Miss You" (2003).

If you have been a fan of Still Inertia's music, this is the first time you can have a full-length (and remastered) CD album of what could very well be considered the "best of" the best tracks to be written after the digital studio was assembled (back in February of 2000). "Upgrade" was remastered at MadNote Studios by Mike Williams with additional assistance from Rob Kress.

(US Release ID: CR-1004)


---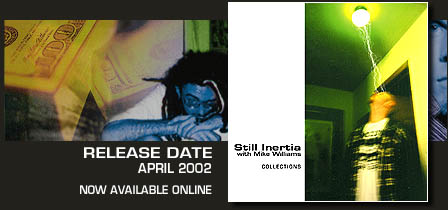 Still Inertia w/Mike Williams: "Collections" (EP)
Total time: 29 minutes - Price: $5 US + Shipping

Released just in time for Tax Season 2002, influenced by recent experiences with a particular bill collector, as well as a collaboration with Mike Williams, has manifested itself into a new song. Fusing electronic rhythms, sounds, and samples with acoustic guitar and piano textures, Collections introduces the rare element of the bill collector himself sampled and trapped in a unique instrumental landscape.

"Collections" opens this 5-track EP. The ambience and depth of the CD turns a notch down and inward as the next track - with the coffee-shop-with-ulterior-motives feel - follows with yet another collaborative fusion between Mike Williams and Jason Kraley as they lay down a soundtrack for a highly unimportant evening at "8 O'Clock, Saturday Night". Two more tracks follow nicely, indulging in two opposites of the instrumental vs. lyrical spectrum. Finishing off is a reprise and an extension of the guitar and piano textures that act out the point when you simply don't let bill collectors get to you... You transcend as "Collections (I Don't Care)" ends out the CD.

(US Release ID: CR-302A)

---
CRC Music (in association with Jason Kraley of Kraley Productions) trusts and accepts all major credit cards, eCheck and PayPal transactions online via PayPal's shopping cart services. Currently, our transactions are for US currency and national shipment. If you are outside of the US, and would still like to make an online purchase, please contact our International Handling Department. We will generate special shipping price pages to assist, customize and expand your shopping cart experience so that we can deliver the goods globally proper.


---
SHIPPING: Shipping is a flat rate of $5 on everything totalling $5 or more. We ship everything 2-3 Day Priority United States Postal Service Mail with a Tracking Confirmation number. Anything under $5 will carry a $2.50 shipping charge and sent via First Class United Postal Service Mail with a Tracking Confirmation number.
---
If you would like to make a purchase with a check or money order the old fashioned way, we have no problems with that. We will, however, require a time period for a bank check to clear before shipping occurs. Please contact Purchasing directly for our mailing address. As always, we appreciate your support and honor your business.